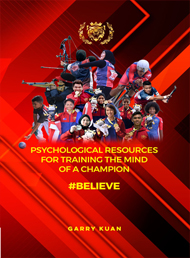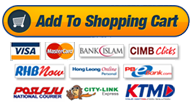 Title: Psychological Resources For Training The Mind of A Champion #BELIEVE
Author: Garry Kuan
Price: RM20.00 ISBN: 978-967-461-475-1
The Psychological Resources for Training the Mind of a Champion #BELIEVE is a unique book specially dedicated to empowering athletes, coaches, and sport psychology practitioners with user-friendly and effective tools in applying science for enhancing sports performance. This mental training book is written specifically for Johore athletes to give you the essential tools to be a champion athlete. Additionally, it is backed by the empirical experiences of the author as a sport psychologist with the Australian Institute of Sport, private consultant with Team GB (Great Britain), and also as a private practitioner with Malaysian National athletes. This book offers (particularly for beginner and experienced practitioners) the art of applying different techniques, without compromising the theoretical principles. It had been designed in a brief and easy-to-use format, thus, by using the step-by-step method, you can work all through the book and build your confidence, develop your focus, self-regulate your arousal and mood, build your competition plans and formulate your imagery winning strategies to help you perform at your highest level of abilities. Together, we create history for this coming SUKMA XX Johor 2020.