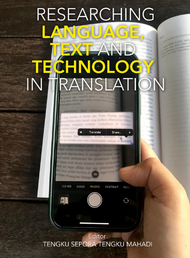 Title: Researching Language, Text and Technology In Translation
Editor: Tengku Sepora Tengku Mahadi
Price: RM30.00 ISBN: 978-967-461-672-4
With the intention to show to the world the rigor of translation research, Researching Language, Text and Technology in Translation came forward with a collection of recent translation studies focusing on the aspects of language, text and technology in relation to translation. There is a total of seven studies, with the first chapter presenting the validity of translation research, while the rest portraying many different topics such as the difference between human and machine translation when translating the memoir of Tun Dr. Mahathir Mohamad, the translation of cultural humor for animated comedies, a look into the colonial perspective when it comes to translating literature from the east and various other topics that are both interesting and bring many different cultures around the world into view. This book can benefit academics, students (particularly research and graduate students), translators and those who are interested in language and translation. It is hoped that its casual yet educational content can open minds and stimulate ideas among its readers, especially in the terms of translation, and of how it connects the world together.