Advances in Liquid Phase Microextraction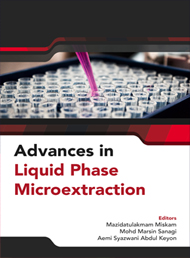 EBOOK VERSION ONLY
CLICK HERE TO BUY >> GOOGLE PLAY
Title: Advances in Liquid Phase Microextraction
Editors: Mazidatulakmam Miskam, Mohd Marsin Sanagi & Aemi Syazwani Abdul Keyon
Price: RM29.00
Advances in Liquid Phase Microextraction is a compilation of articles from selected authors in the year 2015–2018. Covering the advances and challenges in the field, this book is a unique resource for understanding the growing interest in using liquid phase microextraction (LPME).
Divided into five chapters, this book covers the principles of LPME and a few advances that have been carried out such as hollow fiber-LPME, dispersive liquid-liquid microextraction, electromembrane extraction and advanced single-drop microextraction. For each chapter, the details on how the works were carried out and its limitations are included for the readers' convenience.
Designed not only for the scientists, academicians, undergraduate and postgraduate students who are engaged in the R&D activities of the field, this book is also suitable for those who are interested in the sustainable development of green analytical methods.