Guide for Authors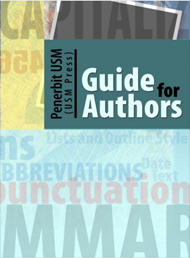 Guide for authors (PDF Version)
Click Guide (PDF Version) to download
1. Guide to fill up Payment Information Form (Foreigner)
2. Panduan Mengisi Borang Maklumat Pembayaran (Warganegara)
Penerbit USM (USM Press)'s Guide for Authors is a compilation of the revised edition of the Press's many editorial and production style sheets. The style sheets were produced based on professional style guides, adapted according to the discipline of the particular manuscript being edited.
This Guide is designed for authors, copy-editors, proofreaders, designers and typesetters, concentrating on style appropriate to academic publications. As thus we would like to consider this Guide as our house style.
In preparing this Guide, the editors are indebted to the work of The Chicago Manual of Style, 15th edition by The Chicago University Press and From Manuscript to Bound Book by Oxford University Press.