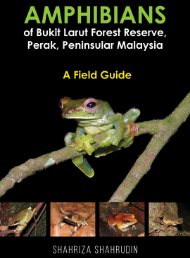 Title: Amphibians of Bukit Larut Forest Reserve, Perak, Peninsular Malaysia: A Field Guide
Author: Shahriza Shahrudin
Price: RM30.00 ISBN: 978-967-461-573-4
At least 107 amphibian species belonged to seven families were recorded to inhabit the forests of Peninsular Malaysia. However, from time to time, many new species were found and described. These include two species of frog from genus Limnonectes (L. utara and L. selatan) and two species of frog from genus Amolops (A. gerutu and A.australis). From these findings, it showed that our forests are very rich with amphibian species. More potential areas, especially the upland systems need to be explored and studied extensively. Attention also needs to be given to cryptic species complex, which may consist of more than one species. This book is written to reveal and distribute the information on amphibian fauna of Bukit Larut Forest Reserve, Perak; the most popular biodiversity hotspot in Peninsular Malaysia. The information is based on our long-term study and survey of this area, starting in 2000–2018. Currently, 55 species of amphibians from seven families were recorded to inhabit Bukit Larut Forest Reserve. These include five species of bufonids, 10 dicroglossids, six megophrys, nine microhylids, 12 ranids, 11 rhacophorids and two ichthyopiids. The book also discusses the altitudinal range of the frog species which can be encountered at the lower part (< 300 m a.s.l.), upper part (> 900 m a.s.l.) and both lower and upper parts of Bukit Larut. This book also includes plentiful photos of amphibians which were photographed, mostly in their natural environments. It also includes the latest nomenclature, morphology, colouration and size, natural history, location and distribution of each frog species.