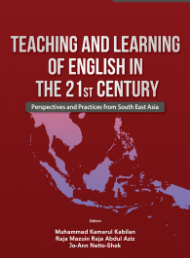 Title: Teaching and Learning of English in the 21st Century: Perspectives and Practices from South East Asia
Editors: Muhammad Kamarul Kabilan, Raja Mazuin Raja Abdul Azin, Jo-Ann Netto-Shek
Price: RM56.00 ISBN: 978-967-461-500-0
Teaching and learning in the 21st century have new implications for English language education since the core focus of learning in the 21st century involves collaboration, creativity, critical thinking and communication. Re-orientation of current curriculum, syllabus and content in English language education may be required and this could be attained by creating fundamental understanding of the concepts in relation to the main skills (reading, writing, listening and speaking), as well as other elements such as professional development of teachers, assessment and technology integration. This book aims to provide and facilitate such understanding to researchers, teachers, students and parents in deliberating, examining and resolving the main issues that beleaguer and challenge everyone and anyone involved in the teaching and learning in the 21st century. This volume draws together various researches, theoretical understandings, ideas and practices that reflect the above.