Business Japanese for Pre-Intermediate Level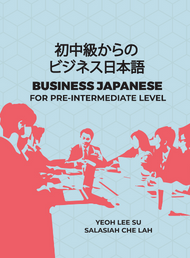 Title: Business Japanese for Pre-Intermediate Level
Authors: Yeoh Lee Su & Salasiah Che Lah
Price: RM47.00 ISBN: 978-967-461-591-8

This book is meant for learners of business Japanese at higher education institutions in Malaysia and the young employees of Japanese companies in Malaysia or in Japan. The main target audience is learners who have completed the elementary level of Japanese language and are preparing to progress to the intermediate level. The reading materials and examples for business conversation in this book are created based on the result of survey and research conducted among Malaysian Japanese speaking graduates working with Japanese companies and their employers. The latest usage of Japanese language in Malaysia is utilized in the teaching materials and is catered for the Japanese language learners in Malaysia. Specifically, learners are expected to achieve the following goals: (i) acquire the sentence structures, vocabularies, expressions, and characters necessary for passing the N3 level of the Japanese Language Proficiency Test and (ii) understand business conversation, business culture, Japanese people's view of work and values, as well as attitude towards work, and acquire the ability of Japanese business conversation according to situation.