Penerbit USM Journals in Web of Science Earn Journal Impact Factor (JIF)
In a groundbreaking milestone, Penerbit USM journals indexed in the Emerging Sciences Citation Index (ESCI, part of Web of Science's Core Collection) have been assigned Journal Impact Factor (JIF) value.
The JIF data were recently released in the latest Journal Citation Reports (JCR) by Clarivate Analytics.
Published annually, the JCR provides data and statistics about indexed academic journals and assesses journal standing on specified metrics, including impact, quartile standing and ranking. JCR is a crucial publication widely used in academia to critically evaluate the impact of a scholarly journal's presence and scrutinise its progress.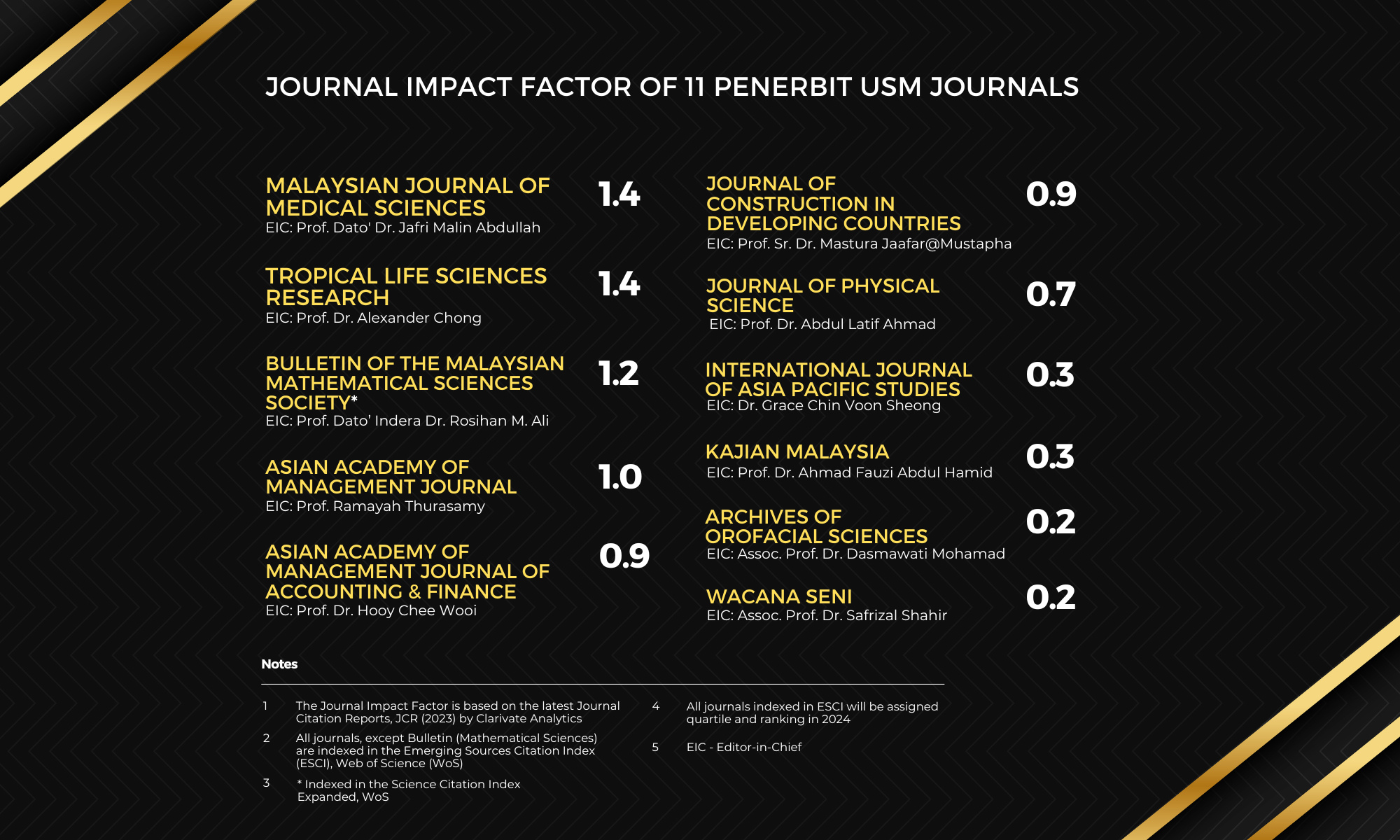 Out of 11 Penerbit USM journals, 10 were assigned JIF for the first time, while the Bulletin of the Malaysian Mathematical Sciences Society, which is indexed in the Science Citation Index Expanded (another database part of Core Collection), earned its JIF beginning in 2009.
All journals in ESCI that received the JIF for the first time will also be assigned quartile and ranking beginning in 2024.
The latest development is a significant headway that would accelerate Penerbit USM's effort to drive the visibility and discoverability of its scholarly journals. The breakthrough also manifests the impact and the progress USM journals are making in academic publishing.
About Penerbit USM
Penerbit USM, established in 1972, is an award-winning scholarly publisher and is the official publisher of USM. It publishes 15 journals on various subjects, most indexed in the Web of Science, Scopus and other specialized databases.